Some of the Tulum recommendations you find here may be common sense like drink lots of water and protect yourself from UV rays, but I recommend you read all of them to learn a couple of things you may not have thought about.
General Tulum recommendations
Keep yourself hydrated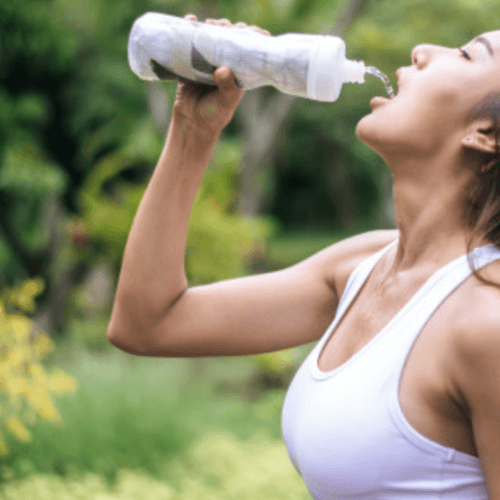 The first of our Tulúm recommendations is to take a couple of liters of water on your backpack because you're going to sweat, plus the weather is very hot and humid.
Wear comfortable shoes
You may wear sandals, but it's best to take your hiking or tennis shoes. The pathways are even but unpaved so you may want to keep an eye out for small rocks if you wear sandals.
Prepare yourself for a quick dip into the sea
One of the Tulum recommendations you can't ignore is to bring your swimsuit because this is one of the most amazing things you can do here that you can't do anywhere else. You can swim in the Caribbean sea right in front of this archeological site.
Plan your route
If you're just looking to take a couple of amazing pictures in front of the structures and the beautiful blue turquoise sea, there's no need to plan the route; but if you want to see everything, it's best to plan ahead so you really know what you're looking at and appreciate the architecture, moldings, and history behind Tulum.
Protect yourself from harmful UV rays
This is one of the most important Tulum recommendations because you may find some shades under the trees, but most of the time, you will be under direct sunlight, so make sure to use sunscreen, a hat, and it may also be a good idea to take an umbrella with you.
No drones or tripods allowed
You may freely take pictures and video with your handheld camera or smartphone, but you have to pay a small fee for shooting video with a pro camera. Also, keep in mind you can't use drones.
If you really need to use a tripod, there's a special permit to use one, but it might take some valuable time out of your visit to get it.
Get a bus tour
While driving yourself may give you the freedom to stay the time you need and stopping to eat wherever you want, it might be tiring for the driver. So, it might be a good idea to get a bus tour to Tulúm because most of them include the access ticket, a tour guide, food, and drinks, so you don't have to worry about anything else other than enjoying your trip. Also, most of the tours to Tulúm include stops at other interesting places like Xel Ha, Cobá, Playa del Carmen, among many other.
Hire a guide (or not)
Other than taking amazing pictures, a must when you visit Tulum is to know what you're looking at and a little bit of history. So, you have 2 options, read before you go, or hire a tour guide.
Bring cash
While traveling in México, it's always best to carry cash because you never know when you can pay with a credit or debit card. Even when they accept them, they may not work properly, try to carry cash with you.
Bring mosquito repellent
It depends on the season, but most of the year there are lots of mosquitos so I would recommend taking with you some mosquito repellent in the form of a liquid, bracelet, sicker, or whatever works for you.
Avoid large crowds
Depending on the season, Tulúm may get very crowded, also keep in mind that any citizen with a valid Mexican ID gets in for free on Sundays. The best advice to avoid large crowds is to get there when they open, or a couple of hours before they close.
Tulum recommendations if you're driving
Get there early (or late)
Try to get there between 8 and 9 am because most people arrive between 9 am and 11 am, plus it's not that hot when you arrive that early.
If you're not an early bird, try to get there between 3 and 4 pm, when most people start to leave.
Time your trip
If you want to get there at 8 am from Cancun, you should leave at around 6:00 am, and if you're staying in Playa del Carmen, leaving at 7 am would be fine. Also, if you want to visit other places like Xel Ha, it's best to start with Tulúm as early as possible, then go to the other place you planned where you can eat and relax for the rest of the day.
Car A/C is a must
If you rent a car, make sure it has a working A/C, even while driving at high speed on the highway, you may need to cool off.
If you are looking to rent a car in the Mayan Peninsula, you can use my affiliate link from here.